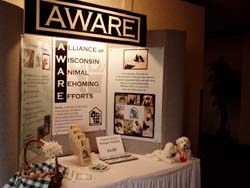 To become a member of AWARE, you must be an active volunteer in good standing with a humane society or rescue in the State of Wisconsin.
Additionally, AWARE has membership standards. We make a commitment to the public that our members will adhere to the following standards:
By 2009, all new and current AWARE members will need to spay/neuter all animals prior to adoption. Exceptions will be where it is not medically recommended. Members who do not comply, will be removed from the list. Spay/Neuter contracts will not suffice. Early spay/neuter must be done.
It is expected that all new and current AWARE members will need to accept their animals back at any time after adoption. A reasonable amount of time will be allotted to allow for transport and identification of foster family. This information will need to be stated in the group adoption documents.
All AWARE members need to be an active volunteer with a  Wisconsin shelter or rescue group to participate. Current members (as of March 2008) who are not members of a shelter or rescue will need to participate in volunteer work on behalf of AWARE or show how they are making an active contribution to the rescue/shelter community.   This will be reviewed at the discretion of the AWARE board. Opportunities might include (but not be limited to): coordinate mailings, coordinate DNR list, coordinate good/concerning rescue listings, etc.
Submit an application on line.  You will find an application under the Members menu by selecting the membership application page.  Once your application is submitted, it will be reviewed and you will be notified of your membership status within a few weeks.
Thank you for your interest in AWARE