Grieve not, nor speak of me with tears.  I loved you so; it was Heaven here with you.
Bernadette's Story
I adopted Bernadette when she was 18 months old from WI St. Bernard Rescue. Her birthday is July 31, 2003. Why anyone would have dumped her in a shelter I don't know. She became a Canine Good Citizen and then a therapy dog.
She is part of the reading program at a local elementary school weekly and visits a nursing home once a month. She was also a blood donor for other dogs until December 2008, when she had her left kidney removed due to hemangiomasarcoma. Hemangiosarcoma is probably one of the worst kinds of cancer because the tumor fills with blood and grows until it bursts, which is usually when the dog's owner first finds out the dog was actually ill. The dog collapses and by the time the vet can find out what is wrong, the dog, unfortunately, dies.
However, we just happened to see blood in her urine, checked it out, and she ended up having her left kidney removed in Dec. 2008. Both of her vets, Dr. Jodie (holistic vet) and her 'western' vet, said they have never had a dog live this long after that diagnosis! Bernadette is on a RAW diet and Dr. Jodie has her on several Chinese herbals, things to help boost her immune system, essential oils, and other little things she has had good experience with for treating Hemangiomasarcoma patients. Dr Jodie is willing to try and do things for animals that are NOT harmful but might be a new way of treating a disease. I have learned so many things from Dr. Jodie and her staff about holistic veterinary medicine. I not only incorporate these things with my own dogs, but with my rescue St Bernards when 'normal' medicine doesn't seem to be helping.
I feel so blessed that Bernadette is still in my life (more than 3 years after her diagnosis of a cancer that usually kills a dog in a few months) and is able and wanting to do her therapy job to help others! I love to share her with people. I'm not sure who enjoys it more, the people she is helping, Bernadette, or me.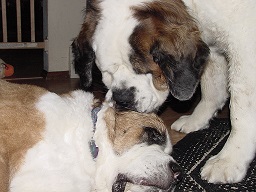 Rainbow Bridge  8-26-13
Considering pet cremation?
Be assured of a private cremation by a caring individual. Call Paris Pet Creamatory, Union Grove, WI. 262-878-9194